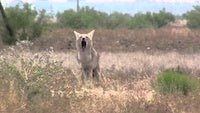 TT Coyote Tapout
Competition Sound Collection
Coyote Vocals
Length:  1:11
A great coyote fight sound, where one coyote is trying to "tap out" and get away, but the others keep putting the hurting on it.  If you like TT Coyote Den Raid, then you are going to love this!  Designed to make smart coyotes stupid.
Part of our Competition Sound Collection.
Download link available after order is complete.