Fat Boy Tripods - Elevate 2 Section Tripod
$ 675.00
Elevate - 2 Section Tripod
Introducing the ultimate inverted shooting tripod. This new concept is crafted from high-quality carbon fiber and aluminum, this lightweight and durable tripod features three non-crossing inverted extendable legs for lightning fast deployment for any situation! With a 42.5mm tube diameter, it can support heavy loads and it shares the traverses title as strongest and most reliable tripod on the market. Elevate your shooting experience with the FatBoy Tripods Elevate.


Measurement

Two Section

Weight with bowl

5lb 14 oz

Weight without bowl

5lb 10 oz

Legs 

3

Legs extended & spread to top of threads

66"

Legs extended & spread to top of threads

71.5"

Legs collapsed and spread to top of threads

36.25"

Footprint width fully collapsed

30"

Footprint width fully collapsed

55"

Leg thickness from widest to most narrow

1.68" or 42.8mm

1.52" oe 38.75mm

Wide leg locks

49mm

Tube diamater 

42.5mm

Leg adjustment tabs 

Locking Tabs

Feet

 47.5 mm Rubber Feet with Integrated Spikes

Spike length

.5"

Whats included 

Tripod & Tripod Bag

Max weight rating 

100lbs
View product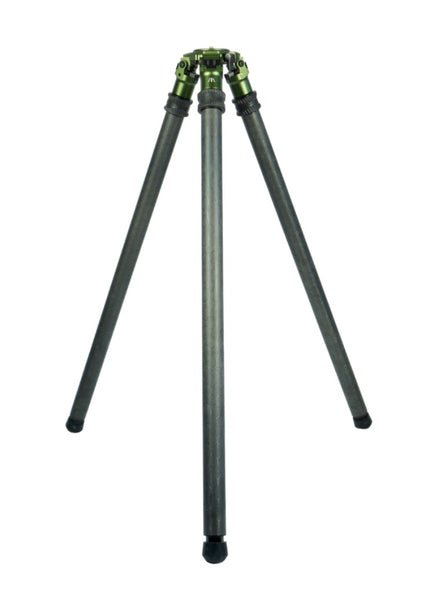 About Us
Predator University is a predator guiding service and predator calling school, owned and operated by Tony Tebbe.  We are located in Lovington, New Mexico....the heart of Coyote Country.
Make sure you check out main website for details on our guided hunts, schooling, and Predator University TV at www.PredatorUniversity.com
Friend me on Facebook at www.facebook.com/tony.tebbe
Email me at: tonytebbepredatoruniversity@gmail.com 
Call me at:  575-390-0048